Packaging
Packing Your Essentials to Take to Your New Home

Every day you will utilise various items and goods in order to get by such as clothes, keys, phones, electronics, utensils, fridge/freezers, ovens, cutlery, vehicles, bags, toothbrushes, glasses, books, furniture, and much more. All of these things are essential to your life and it would be extremely difficult to get by without them. If you embarking on a home or business removal you can't afford to lose or break anything and so they will all have to be transferred. Sometimes it may seem like better idea to abandon items such as furniture, and buy new ones rather than undergo the process of shifting them all, though this can be very expensive. Moving should be fun but you can't enjoy it if you are worried about getting everything you own to your new address so you should call for help. Dundee Removals will heed these cries and assist you as soon as you call us on 020 8746 9638.
We are a removal rim based in Dundee and we can begin to help you with your moving process immediately. Over the phone, our staff can give you invaluable advice and guidance so that you have a better idea of how to complete your packing. They will tell you what precautions to make, what methods to use, how to stay safe and what items you will need. They can fill you in on where to get the necessary packing but they can also provide it for you. They will list all of the services we offer so you don't have to do any of this and supply a quote that will be free and need no commitment to highlight our prices.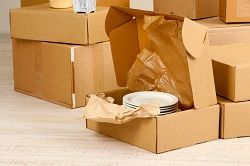 Packing can be a complicated step so you don't just want anyone to handle it for you. You need skilled and experienced individuals who you know you can trust managing your goods. Our team fits all of these criteria and more and you will see for yourself when they arrive at your home. They will have everything you need so you can leave it to them. They will arrange all of your goods first and make a checklist. The first step allows them to keep similar items together and separate goods that could damage others. The second part prevents things from being left behind or misplaced. Once this has been done they will use bubble wrap, polystyrene, tissue paper and more to enfold each object. This will keep them clean and add a layer of protection. When everything I ready boxes made of cardboard, plastic and more will be filled. Our team will be careful when doing this gently placing each item inside and will not overload any box. Items won't be crushed this way and they will remain easy to carry.
Once everything is packed, you still can't actually call an end to packing because you have to take it to where it is needed and this includes out of your home, onto vehicles and then off gain, before placing them into your new abode. Our team will take care of this as well, as our team have the strength and know-how in order to carry anything. They will take many precautions and get things across stairs, through doors and to where they are needed. We may dismantle some of your furniture to make it easier to carry and transport but will only do so if we have your permission and can rebuild it later.
Packing can be complicated but it doesn't have to be as long as you let Dundee Removals handle it for you.